NetworkSound, an Innovance client, has recently launched a new product line, the Mamba digital snake. This is a very big step for the company, because it is the first NetworkSound branded product. NetworkSound is a technology focused company, that normally follows an OEM model, providing technology for the products of other companies (see http://blog.innovanceconsulting.com/2007/03/gibson-launches-hd-6x-pro-digital.html).
The product is a digital snake, a Cat-5 digital replacement for the bundle of analog cables, typically known as a snake (pictured below), that runs from a stage the the front of house mixer. Analog snakes contain an individual jacketed, shielded, 3 conductor cable for each analog channel being carried. A typical analog snake carrying 64 channels can weigh more than 200 pounds, and has several inherent sound quality issues. NetworkSound's Mamba digital snakes rely on its proprietary media transport technology "MediaNet" which is capable of carrying 128 channels of audio (64 in each direction) over a lightweight Cat-5 cable.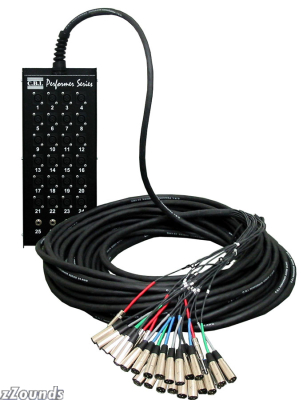 Innovance handles all of NetworkSound's marketing operations, and has played a considerable role in the product launch, and change in stratagy from OEM to manufacturer. Mamba competes with strong name brands in the industry, including Roland, Whirlwind, and Aviom. We therefore advised that the Mamba be positioned as an inexpensive alternative to the high priced options provided by these companies. Mamba's audio quality and reliability are in some cases better than other available options, but because of low name recognition, the strategy is to keep prices as low as possible to gain market share.
Considerable effort has been made to increase awareness of the Mamba product, including press releases in industry publications, as well encouraging reviews by influential members of the professional audio community.
Below is some coverage of the release: